About
HOMELESS TO INDEPENDENCE'S MISSION STATEMENT
THE SOLE PURPOSE OF "HOMELESS TO INDEPENDENCE" IS TO HELP PEOPLE TO COME FROM WHERE I HAVE COME, BY GOD'S GRACE, BY PROVIDING AS MUCH HELPFUL INFORMATION AS POSSIBLE. I MUST NEVER FORGET WHERE I HAVE COME FROM!
PLEASE READ THIS BEFORE YOU CALL US:
DISCLAIMER
Homeless To Independence Inc. is a 501©3 non-profit organization. We do NOT receive any grant funding what-so-ever to pay bills for anyone in any situation. We do not give away money. We do not give out loans against any money.
This ministry is supported with generous financial donations that are used to help keep us functioning. Our purpose is to help supply individuals and families with personal needs such as food, toiletries, clothing, household items, furniture and baby/adult diapers/wipes both locally and to areas effected by disasters . At this time, we do not offer any shelter or transitional housing services. Again, we DO NOT pay any bills. We DO NOT pay any rents or mortgages.
If you are actually homeless, or about to be homeless or need emergency assistance of any kind, DIAL "211" from a land-line telephone. This will not work from a cell telephone. Tell the receiver your situation and what you need. They will give you information specific for the location you are currently in plus any referrals you may need. They have the most up to the minute information for your specific area. Dialing "211" will get you help and much more info than this office can provide. Homeless to Independence wants you to have all the information you need to get through the situation you are in.
Don't have a land-line telephone??? Go to your local police department, library, or house of worship and ask to use their land-line telephone. They may even make the call on your behalf.
***
For those of you looking for employment through-out the United States, District of Columbia or Puerto Rico, simply send me an email to:
Ann@homelesstoindependence.org with:
1) the name of your State/Commonwealth, District of Columbia or Puerto Rico and
2) if you have a conviction and your record contains something more serious than a traffic conviction within the past 7-years. We do NOT need to know what the conviction was, we do not want to waste your time with opportunities you will not be qualified to apply for at this time.
***
Homeless To Independence Inc. is not responsible for misprints or cancellations of events by the event holders, landlord and/or their agent, or ourselves. Homeless to Independence Inc. also reserves the right to "NOT" offer services to people and/or persons that are rude, unpleasant, and untruthful in any way shape or form, belligerent and the like.
OCCASIONALLY, THERE WILL BE ARTICLES BY OTHER WRITERS. HOMELESS TO INDEPENDENCE MAY NOT NECESSARILY AGREE WITH THEIR VIEWPOINTS, BUT WE DO RESPECT THEM. THANK YOU FOR YOUR COOPERATION!
OFFICE CONTACT INFO:
HOMELESS TO INDEPENDENCE, INC.
405 SOUTH MAIN ST.
PHILLIPSBURG, NJ 08865
THE VERY BEST WAY TO CONTACT ME IS TO SEND ME AN EMAIL: ANN@HOMELESSTOINDEPENDENCE.ORG
OFFICE NUMBER IS: 1-908-454-1500 LISTEN TO THE RECORDING
Please note that our office does have very limited volunteer staff and if we are one telephone line we cannot answer the other line. There is simply not enough time in the day to answer and/or return each and every telephone call.
IF YOU ARE ASKING FOR FINANCIAL ASSISTANCE, NO ONE WILL CONTACT YOU BACK.
THANK YOU!!!
UPDATED 09-25-17
*****************************************************************************************************
ABOUT THE FOUNDER AND CEO :
Ann Martin-Frey was born November 17, 1960 in Elizabeth, NJ
Active in various church's and community activities since the age of 10, including small a'capela
choirs, food drives, volunteerism with food banks, cooking/baking special diet meals from scratch
primarily for diabetic's of a Meals on Wheels program in Leesburg, FL, providing lawn care for the
disabled and working poor at very low cost…
Eventually being brought to a point in my life when I acknowledged God had been molding me for
something even bigger.
As I was traveling throughout the United States back in 1999-2000, praying for clarity of my purpose
for His will for my life, I found myself in Sacramento, CA at Friendship Park (affiliated with Loaves
and Fishes). I found homeless people from so many different backgrounds – veterans, teenagers,
the elderly, and singles with dogs, families, speech and hearing impaired – I took extra time to listen
to them, their needs, their wants, their dreams. I slept in the shelters, the overflow shelters, in fields
with sleeping bags and under bridges to experience the difficulty of their life experiences. And
there I found His will for me. When someone expressed their sincere need to find employment I
took the time to find out their past work experiences and compared that to what they enjoyed doing
for work – and then I hunted for employment openings. And since they had some type of shelter
they were hired within a short period of time and they worked with their shelter case manager to get
into more secure and stable housing. And they were on their way….
It went even further, not just fellowshipping with people looking to better their lives in respect to
work and housing, but fellowshipping with active alcoholics and substance abusers. Somehow, in
some way, a person would cross my path and when we met we would just start to talk and in most
cases within 24-hours they made the decision to go into serious treatment for themselves. I still
remember one woman that came up to me and gave me a strong hug and she could not stop
thanking me. I did not recognize her at first and when she reminded me who she was, I am in tears
even now remembering….she had brought her weight up, had her hair and modest makeup on, was
employed – a walking miracle. And I in turn had to remind her that I am just the willing vessel and to
give all thanks to God.
I continued to make up the employment lists and distributing them and started to travel to other
towns and cities, where I would stay for a month or two, work with those that sincerely needed
someone to talk to, to express their fears, their needs, their wants and their dreams.
This is how "Homeless To Independence Inc." came about and today is focused on my home State
of New Jersey within all 21-counties – bringing both people and services together, as well as,
bringing services a better awareness of other service providers to help those in need more
thoroughly. I have also served as an AmeriCorp VISTA Volunteer in Service to the New Jersey
State Parole Board servicing those released and their families with employment, housing and other
information that is needed to help these families transition successfully into a positive lifestyle.
Recently honored by NCADDNJ
(National Council on Alcoholism and Drug Dependence-New Jersey),
F.O.A.R. (Friends of Addiction Recovery),
Royal Priesthood Fellowship/Somerset, New Jersey
The Ida B. Wells Community Activist Award from the Metuchen-Edison N.A.A.C.P.
Garden State Bar Association 2009 Holiday Charity
AAHPC on April 10th, 2010
To view pictures of the event please go to:
http://www.tricountyonline.org/
Articles have been written on "Homeless To Independence" on:
09-25-05 by the Star Ledger, Elizabeth, NJ
April '06 Trenton Area Soup Kitchen
August 2009 – Volunteers of America
September 2009 – Trentonian Newspaper
September 2009 – Front Page Trenton Times
******************************************************************
CLICK THIS LINK: Www.BlogTalkRadio.com/TheANTIQUEeSHOw
TO HEAR ANN MARTIN-FREY, FOUNDER AND CEO'S RADIO INTERVIEW FROM
THURSDAY, MARCH 24TH, 2011 –
THANK YOU LESLEY AND JAMAAL!!! GREAT INTERVIEW!
*****************************************************************
Speaking and Presentation Events:
Somerset County Community Development (CEAS) Comprehensive Emergency Assistance
NJ State Parole Conference 03-06 Jersey City, NJ re: Housing
FOAR December 2nd, 2006
Royal Priesthood Fellowship/Somerset, NJ December 15th, 2006
N.A.A.C.P. February 3rd, 2007
The Crisis Ministry – Poverty Simulation, Whig Hall, Princeton University Feb. 24, 2007
Homeless To Independence Inc., is an ALL Volunteer Faith-Based Non-Profit that provides
information regarding: Employment, Affordable Housing and First Time Home Purchaser
Programs, NJ Emergency Services Including Food Pantry and Meal Information, Flu Shots and
Much More Information provided for the Homeless, Working Poor, Those Coming Out of Jails,
Prisons and Institutions, those that were Transplanted Due to Natural Disasters such as Hurricanes
Katrina/Rita and those that are losing their employment due to companies closing and downsizing
– regardless of the situation……
We cannot pick and choose who we help…..
Doing His work should be all that matters….
Thank You,
Ann Martin-Frey
Founder and CEO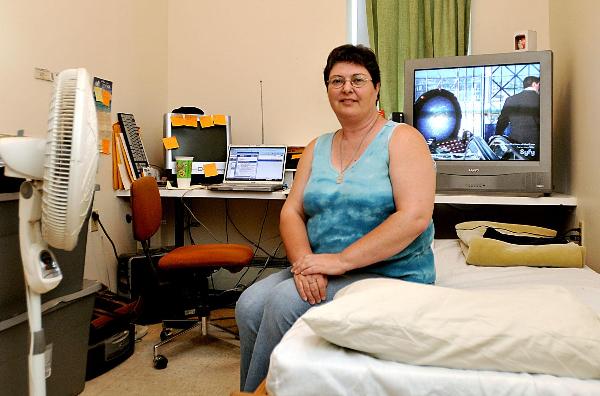 THIS WAS OUR VERY FIRST OFFICE!!
MORE PICTURES OF OUR NEW LOCATION ARE ON THE WAY……
*********************************************************
INFORMATION ON THE BOARD WILL BE COMING SOON!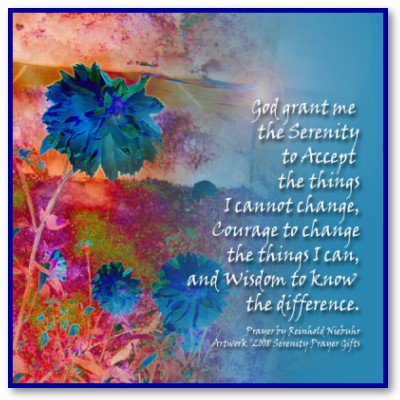 ********************************************************************************************
This is how God worked in my life:
When your time is up, your time is up! We can not add a second to God's time.
Their time wasn't up yet!
Read the caption under the first photo,
then look at the second photo.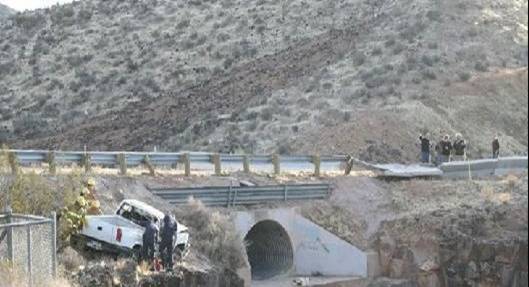 Look at the picture above and you can see where this driver
broke through the guardrail, on the right side of the culvert,
where the people are standing on the road, pointing.
The pick-up was traveling about 75 mph from right to left
when it crashed through the guardrail.
It flipped end-over-end, bounced off and across the culvert outlet, and landed right side up on the
left side of the culvert, facing the opposite direction from which the driver was traveling.
The 22-year-old driver and his 18-year-old passenger
were unhurt except for minor cuts and bruises.
Just outside Flagstaff , AZ , on U.S. Hwy 100.
Now check out the second picture below…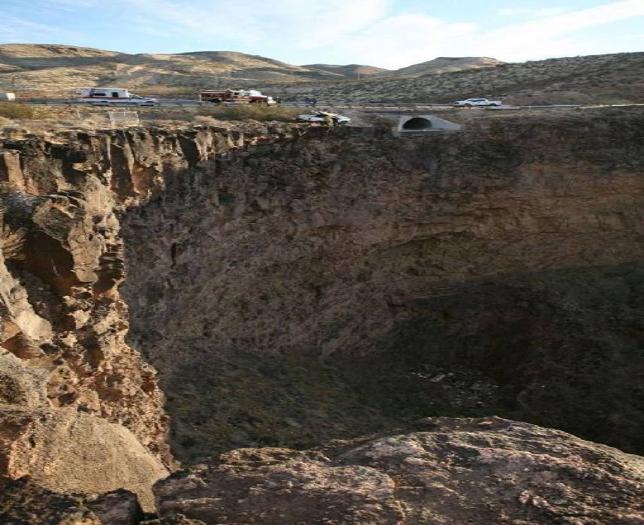 If God isn't done with you, God isn't done with you..