For Veterans New Jersey
NEW JERSEY VETERANS
PLEASE READ THIS BEFORE YOU CONTACT US:
DISCLAIMER
Homeless To Independence Inc. is an All-Volunteer, Faith-Based, 501©3 non-profit organization. We do NOT receive any grant funding what-so-ever to pay bills for anyone in any situation. We do not give away money. We do not give out loans against any items for money.
This ministry is supported with generous financial donations that are used to help keep us functioning. Our purpose is to help supply individuals and families with personal needs such as food, toiletries, clothing, household items, furniture and baby/adult diapers/wipes both locally and to areas effected by disasters. At this time, we do not offer any shelter or transitional housing services. Again, we DO NOT pay any bills. We DO NOT pay any rents or mortgages.
If you are actually homeless, or about to be homeless or need emergency assistance of any kind, you can:
1. DIAL "211" from a:
a. Land line telephone. Tell the receiver your situation and what you need. They will give you information specific for the physical location you are currently at plus any referrals you may need. They have the most up to the minute information for your specific area. Dialing "211" will get you help and much more info than this office can provide. Homeless to Independence wants you to have all the information you need to get through the situation you are in.
b. Cell Telephone – this will ONLY WORK if the area code of your telephone is calling "211" within the very same County you got your cell telephone in!
PLEASE NOTE: If you do not have a land-line telephone or cell telephone, go to your local police department, library, or house of worship and ask to use their land-line telephone. They may even make the call on your behalf.
2. Use the internet and go to: http://www.211.org/
***
For those of you looking for employment through-out the United States, District of Columbia or Puerto Rico, simply send me an email to:

***
Homeless To Independence Inc. is not responsible for misprints or cancellations of events by the event holders, landlord and/or their agent, or ourselves. Homeless to Independence Inc. also reserves the right to "NOT" offer services to people and/or persons that are rude, unpleasant, and untruthful in any way shape or form, belligerent and the like.
OCCASIONALLY, THERE WILL BE ARTICLES BY OTHER WRITERS. HOMELESS TO INDEPENDENCE MAY NOT NECESSARILY AGREE WITH THEIR VIEWPOINTS, BUT WE DO RESPECT THEM. THANK YOU FOR YOUR COOPERATION!
OFFICE CONTACT INFO:
THE VERY BEST WAY TO CONTACT ME IS TO SEND ME AN EMAIL: ANN@HOMELESSTOINDEPENDENCE.ORG
OFFICE NUMBER IS: 1-732-264-7500
Please note that our office does have very limited volunteer staff and if we are one telephone line we cannot answer the other line. There is simply not enough time in the day to answer and/or return each and every telephone call.
IF YOU ARE ASKING FOR FINANCIAL ASSISTANCE, NO ONE WILL CONTACT YOU BACK.
THANK YOU!!!
*********************************************
All employment information and career event information can be found here:
***
All housing information can be found here:
Central New Jersey: http://www.homelesstoindependence.org/new-jersey-central-new-jersey-rentals/
Northern New Jersey: http://www.homelesstoindependence.org/new-jersey-north-new-jersey-rentals/
Southern New Jersey: http://www.homelesstoindependence.org/new-jersey-south-new-jersey-rentals/
**********************************************
The Steven A. Cohen Military Family Clinic at NYU Langone Medical Center provides free and confidential individual, couples, family, and group therapy for veterans and their family members regardless of discharge status, combat exposure, or era served. We provide treatment for posttraumatic stress, depression, anxiety, readjustment difficulties, relationship problems, along with a variety of other challenges military families may experience. Additional services include treatment for alcohol and substance use as well as assessment and treatment of traumatic brain injury. Our highly skilled clinicians have deep appreciation for and sensitivity to the military culture and its unique strengths and challenges and are passionate about helping veterans and military families. The treatment we provide is flexible and integrative and is rooted in evidence-based principles.
 
Interested individuals can call our intake line at (855) 698-4677 or e-mail us at: militaryfamilyclinic@nyumc.org.
Visit our website at: http://nyulangone.org/locations/steven-a-cohen-military-family-clinic
 
 
Not located in the NYC area? No problem! Our services are available via our telemental health program to veterans/reservists/National Guard/families anywhere in NY state or CT!
 
Telemedicine
Telemental Health Program at the MFC provides mental health care to veterans, service members (from any era and with any discharge status), and their families in every part of New York State who are unable to regularly commute to therapy.  Services are provided via computer or tablet and can be done in the privacy of one's home.
 
TBI Program
Approximately 300,000 veterans sustained a TBI as a result of serving in the recent wars in Iraq and Afghanistan; 57% were not evaluated or treated for TBI. Our TBI Program, funded by NYC City Council, is offering services to fill this gap in treatment. The service offers neuropsychological evaluations, which help us to understand the relationship between brain and behavior. These evaluations offer in-depth assessment of memory, thinking visually/verbally, attention, problem solving, planning and mood. The TBI Program also offers cognitive training, to develop strategies to work around cognitive difficulties. The training consists of 10 weekly meetings for 1-2 hours with a neuropsychologist to learn problem solving, organizational strategies and memory and attention techniques. The program also gives the opportunity to learn about how mood, sleep, and headaches can affect cognitive functioning, and strategies to work on these domains. The individualized treatment caters to specific challenges and strengths of each veteran, guided by the neuropsychological assessment.
 
Child/Family Program
Military children are faced with unique stressors related to relocation, parental separation, family reunification, and reintegration. These stressors may result in disrupted relationships, behavioral problems, and academic difficulties. Many children struggle to adjust to their parent's combat injury (visible or invisible) or deal with a parent's death. The MFC Child and Family Program provides individual child therapy, parent-child therapy, family therapy, social skills groups for children, and parenting support workshops. Expressive arts, games, and play are central components used to address and process concerns that impact the whole family. These services are offered to veterans and current service members as well as families of the fallen.
 
Couples Therapy
MFC provides support to couples experiencing relational difficulties, including conflict, sense of disconnection, problems with communication, and others. Although the majority of military families are strong and resilient, stress related to military service may affect intimate relationships, at times leading to serious problems such as domestic violence and divorce. Using Emotionally Focused Couples Therapy, our clinicians are here to help couples restore a sense of connection, safety, and intimacy between the partners. Couples do not have to be legally married to qualify for services. 
 
ADHD Assessments
We provide adult ADHD assessment and treatment for veterans and their families. Adult ADHD affects approximately 5% of our nation's veterans. It can interfere with one's ability to reach their goals in academics, their job, and even their family life. If you are interested in learning more about our adult ADHD assessment and treatment options call Dr. Spray at 646-754-4822.
 
 
Dual Diagnosis Program
Our Welcome Back Veterans Dual Diagnosis Program, a program made possible by the McCormick Foundation and Major League Baseball, offers flexible, integrative care for veterans, service members, and their family members struggling with addiction and comorbid mental health problems. Our harm reduction approach provides flexibility in setting treatment plans and goals, which may vary between patients. Goals may include reduced harm associated with use to abstinence, and treatment may include individual therapy, group therapy, and medication management. The option of offering family and couples therapy in the context of dual diagnoses treatment offers patients more comprehensive care and is aligned with research and clinical notions of the importance of attachment and relationships in supporting recovery.
 
FLYERS:
NYU1005_TELEMENTAL_Cohen_MFC_brochure_4
posted 10-07-17
**********************************************
FOR MORE EVENTS, go to http://www.patriotconnections.org
DONT SEE YOUR EVENT LISTED HERE?….You have to submit it ! … Submit your Events directly on our website for free!…
***
Help for VA Community Living Center visits in Lyons, NJ – Every Tuesday night, volunteeers go to the CLC to run Bingo for the veterans and provide snacks, coffee, etc. If you or your organization can help with some donations (monetary and/or snacks), please contact Jon at nj.post12.alr@gmail.com
***
A new Vets Chat and Chew program for MALE veterans and active military will take place on
Wednesday evenings from October 11 to November 15, 2017
at VFW Post 2867, 340 Outwater Lane, Garfield, NJ from 6-8 PM. We start promptly at 6 pm. Flyer is attached.
Vets Chat & Chew- FOR MALE VETERANS OCT.11 -NOV.15
***
10/12/2017 – 12/02/2017 – Troopons: 8:00 am – 11:00 pm Auxiliary Unit 91 has undertaken an initiative called "Troopons" to help Support Our Troops and their military families by cutting and collecting "Manufacturer's Coupons" and we are seeking your help too! American Legion William J. Hocking Post 91 Wharton, NJ, 99 N Main St, Wharton, NJ
***
10/22/2017 – Crab & Spaghetti Dinner: 12:00 am – 8:00 pm $20 pp Carbs & Spaghetti, Meatballs, Sausage, Pesto Pasta, Rolls, Salad, Desserts, Coffee & Tea. Canteen will be open NO OUTSIDE ALCOHOL Berlin VFW ANMAC POST 6253, 34 Chestnut Ave, Berlin, NJ
10/22/2017 – Civil War History Day: 12:00 pm – 4:00 pm Come visit the Historic West Jersey Train Depot where the soldiers came home from the Civil War! Exhibits, Lectures, authentic live music, 12th NJ Volunteers encampment, Abraham Lincoln!! Glassboro Historical Society, 354 Oakwood Ave, Glassboro, NJ
10/22/2017 – Encampment at Glassboro Rail Road Station: 12:00 pm – 3:30 pm The 12th New Jersey Volunteers, Civil War reenactors will present a living history encampment along with exhibits, a visit from President Lincoln and drills for the public to view! , , ,
10/22/2017 – Welcome Home USAF Daniel Little: 2:15 pm Join Warriors Watch and friends to welcome home USAF Daniel Little. He is returning home from a reent deployment fighting the war on terror. Meet at the Jug Handle, 1018 Forklanding Rd., Cinnaminson NJ at 2:15pm. We will depart at 2:55pm Jughandle Inn, 1018 Forklanding Rd, Cinnaminson, NJ
October 23, 2017
10/23/2017 – 2nd Annual Golf Outing – Cherry Hill PBA: 11:00 am On Monday, October 23, Cherry Hill PBA 176 will be hosting its 2nd Annual Fall Golf Classic. The event will take place at the Pennsauken Country Club in Pennsauken, NJ. Registration is at 11 A.M; the start time will be 12:30 P.M. For information on how to participate or to become a sponsor, see the attached pictures. Additionally, a printable registration form can be downloaded at https://goo.gl/ZgZp4h Pennsauken Country Club, 3800 Haddonfield Road, Pennsauken, NJ
10/23/2017 – Honoring Unforgotten Heroes Ceremony: 1:00 pm – 2:30 pm The 1983 Beirut barracks bombings were attacks that occurred on October 23, 1983, in Beirut, Lebanon, during the Lebanese Civil War when two truck bombs struck separate buildings housing Multinational Force in Lebanon (MNF) peacekeepers, specifically against United States and French service members, killing 241 U.S. and 58 French peacekeepers, 6 civilians, and the 2 suicide attackers. A group called 'Islamic Jihad' claimed responsibility for the bombings and said that the bombings were aimed to get the MNF out of Lebanon. The International Christian Union, Bergen County Sheriff's Office, Beirut Veterans of america, and Bergen County Division of Veteran services is collaborating to host a day of remembrance at our Honoring Unforgotten Heroes Ceremony. Please join us as we pay tribute to those 241 Marines that we lost that day due to this horrendous act. We must never let our country forget the sacrifices that are made by our brave men and women. Bergen County Courthouse, 10 Main Street, Hackensack, New Jersey
October 24, 2017
10/24/2017 – Information Session – Veterans' Benefits: 7:00 pm – 8:00 pm Join us for a Veterans' Benefits Information session with Frank Quadrino, Community Outreach Manager for the Veterans Administration (VA) New Jersey Health Care System and Richard Thompson, Veterans Service Officer, and Richard Zalinskanskas from Union County. Light refreshments will be served following presentations in canteen area. Martin Wallberg American Legion Post 3, 1003 North Ave W, Westfield, NJ
10/26/2017 – American Legion Open House/Bike Night: 6:00 pm – 10:00 pm We are still going come down to our Open House/Bike night throughout the year will continue to have them. We will make Thursday night our official Open House so come down any Thursday night. On the bike nights identified we will have food but not at every Open House. Thank you hope to see everyone American Legion Post 310 Little Ferry, NJ, 100 Liberty St, Little Ferry, NJ
October 28, 2017
10/28/2017 – 23rd Annual Cooper Kids Toy Run: 9:00 am The Chrome Riders would like to invite EVERYONE to come out to our 23nd Annual Cooper Kids Toy Run on October 28 2017 Saturday to help us put a smile on a sick child's face that has to be in the Hospital at this time of year. If you would like to come on this ride with us a $10.00 Donation and a New unwrapped toy for a Girl or a Boy is all you need. So come on out and help us help a Child at Cooper Hospitals Pediatric Unit at Cooper Hospital in Camden NJ. Once you see the smile on their little faces you will know why we continue to keep doing this year after year. Registration starts at 9am at VFW Post 678. KSU at 11am. Cost is $10 and 1 new unwrapped toy. We will return to the VFW for lunch after toy run to Cooper Kids Pediatric Unit in Camden. VFW Paulsboro, 1103 N. Commerce Street, Paulsboro, NJ
10/28/2017 – Medal of Honor Monument Dedication SFC Fred Zabitosky: 11:00 am On the 19th of February, 1968, at the height of the TET Offensive during the Vietnam War, Sergeant First Class Fred Zabitosky earned his nation's highest award for valor, the Medal of Honor. For decades there has been a framed photo of SFC Zabitosky, along with a photogrph of an Army Medal of Honor, in the vestibule of the Ewing Township Muinicipal Building, where Zabitosky is from. Unfortunately, Zabitosky passed away in January of 1996 at the age of 53. Mayor Bert Steinmann and township officials have long felt that more needed to be done to show the respect and gratitude owed to SFC Zabitosky and to all the brave men and women of Ewing who have selflessly put their futures on hold, some sacrificing their future entirely, to answer their country's call. Please join us on Saturday, October 28, 2017, for a dedication ceremony for SPC Zabitosky's new memorial display which will be at the Municipal Building at 11am. All are encouraged to come out and honor this hero and all the other town veterans for their service and sacrifices. Fred William Zabitosky (October 27, 1942 – January 18, 1996) Service Years 1959 – 1981 Rank and Organization: Sergeant First Class (then S/Sgt.), U.S. Army, 5th Special Forces Group (Airborne) Place and Date: Republic of Vietnam, 19 February 1968 Citation "For conspicuous gallantry and intrepidity in action at the risk of his life above and beyond the call of duty. Sfc. Zabitosky, U.S. Army, distinguished himself while serving as an assistant team leader of a 9-man Special Forces long-range reconnaissance patrol. Sfc. Zabitosky's patrol was operating deep within enemy-controlled territory when they were attacked by a numerically superior North Vietnamese Army unit. Sfc. Zabitosky rallied his team members, deployed them into defensive positions, and, exposing himself to concentrated enemy automatic weapons fire, directed their return fire. Realizing the gravity of the situation, Sfc. Zabitosky ordered his patrol to move to a landing zone for helicopter extraction while he covered their withdrawal with rifle fire and grenades. Rejoining the patrol under increasing enemy pressure, he positioned each man in a tight perimeter defense and continually moved from man to man, encouraging them and controlling their defensive fire. Mainly due to his example, the outnumbered patrol maintained its precarious position until the arrival of tactical air support and a helicopter extraction team. As the rescue helicopters arrived, the determined North Vietnamese pressed their attack. Sfc. Zabitosky repeatedly exposed himself to their fire to adjust suppressive helicopter gunship fire around the landing zone. After boarding 1 of the rescue helicopters, he positioned himself in the door delivering fire on the enemy as the ship took off. The helicopter was engulfed in a hail of bullets and Sfc. Zabitosky was thrown from the craft as it spun out of control and crashed. Recovering consciousness, he ignored his extremely painful injuries and moved to the flaming wreckage. Heedless of the danger of exploding ordnance and fuel, he pulled the severely wounded pilot from the searing blaze and made repeated attempts to rescue his patrol members but was driven back by the intense heat. Despite his serious burns and crushed ribs, he carried and dragged the unconscious pilot through a curtain of enemy fire to within 10 feet of a hovering rescue helicopter before collapsing. Sfc. Zabitosky's extraordinary heroism and devotion to duty were in keeping with the highest traditions of the military service and reflect great credit upon himself, his unit, and the U.S. Army." Source: http://www.history.army.mil/html/moh/vietnam-m-z.html#ZABITOSKY Ewing Municipal Building, 2 Jake Garzio Drive, Ewing, NJ
October 29, 2017
10/29/2017 – 35th Annual ABATE Toy Run: 12:00 am Rain or SHINE!!! We will be registering at the Peachtree Plaza, 80 S. White Horse Pike, Hammonton from 9:00 AM till 11:45 AM and KSU at noon SHARP!!!! The END POINT is the Pic-A-Lilli Inn, 866 Route 206, Shamong. If you can't make the Run, meet us at the Pic-A-Lilli Inn. Donation is $15 per driver/$10 for a passenger and a toy/infant item. Participant will receive food, music by DJ Lenny and a chance for door prizes. Peachtree Plaza, Rt 30 at Rt 206, Hammonton, NJ
***
11/02/2017 – Visions in Black and White: 5:00 pm – 10:00 pm Visions in Black and White Art Show & Auction You are invited to attend this delightful event at a spectacular venue in north Jersey. Come and enjoy the evening filled with wonderful art, gourmet food, wine, Reflection Photography, and many other surprises to delight you. The auction will go on during the evening and you will hear some great stories about Project Help, the host of this event. Visions in Black and White is an annual fundraiser for Project Help's 501c3 charity. Project Help support veterans and their families in times of need. www.ProjectHelp.US for more information about this great organization and also find them on Facebook.com/projecthelpus. For tickets please go to https://projecthelp.networkforgood.com/events/2255. Tables for 10 are in limited supply, so don't wait. Any questions please call 973-875-2068. Stony Hill Inn, 231 Polifly Rd., Hackensack, NJ
11/04/2017 – Legion Riders Post 252 Hoagie Sale: 9:00 am – 1:00 pm American Legion Riders Annual Hoagie Sale Nov 4th 9am – sold out. Pre Order is encouraged. Call Heather at 856-534-4333 to order. American Legion Post 252, 20 Sicklerville Rd , williamstown, New Jersey
11/04/2017 – Burlington County WWI Memorial Dedication Event: 10:00 am – 11:00 am November 4, 2017….The WWI Memorial Committee will be adding and dedicating a monument at Freedom Park in Medford to honor all WWI Veterans from Burlington County New Jersey that served with distinction. The monument will be added to this Burlington County honor space where two other monuments were dedicated previously to Vietnam Veterans, and to fallen Veterans post Vietnam. Please join us at 10am for honor guards, middle school choirs and keynote speakers. Freedom Park, Union Sreet, Medford, New Jersey
11/04/2017 – Veterans Dinner: 3:00 pm – 6:00 pm FREE dinner for ALL Veterans (must show ID) All others $10 per person Roast Pork, Green Bean Almondine, Salad, Rolls, Dessert, Coffee, Tea Berlin VFW ANMAC POST 6253, 34 Chestnut Ave, Berlin, NJ
11/05/2017 – AMVETS Ladies Auxiliary Hoagie Sale: 11:00 am AMVETS Post 101, 519 June Road, Pennsauken, New Jersey
11/05/2017 – AMVETS Ladies Auxiliary Hoagie Sale: 11:00 am Ladies Auxiliary Game Day Hoagie Sale Come out to root for our Eagles and enjoy a hoagie while you're here! Or take a bunch home for half time. Rescheduled from 10/14. American, Tuna or Turkey. Still only $5.00 while they last. AMVETS Post 101, 519 June Road, Pennsauken, New Jersey
11/05/2017 – Veterans Day Celebration at Avista Health Care: 12:30 pm Join Warriors Watch riders and friends to visit Avista Health Care and help give all the veterans a proper Welcome Home. There will be many veterans present for this event from all different conflicts. Bagel Spot Parking Lot, 600 Kings Hwy, Cherry Hill, NJ
11/11/2017 – Legion Riders Post 252 Hoagie Sale: 9:00 am – 1:00 pm American Legion Post 252, 20 Sicklerville Rd , williamstown, New Jersey
***
11-11 & 11-12, 2017

***
11/18/2017 – Cpl Marc Ryan 5K Run/Walk: All Day Race day registration start – 7:30am at VFW, 27-29 N. Burlington St., Gloucester City, NJ 08030. USATF Certified Course (similar to last year). Long Sleeve Colored T-Shirts for the first 350 registrants (Runner or Walker). Post race food & beverages. After race block celebration, Cpl. Ryan Tribute, Big Jim dedication, & awards presentation. START TIME: 9:00am EST PRICE: $25.00 Race Fee + $2.50 SignUp Fee Complete information can be found at https://runsignup.com/Race/Events/NJ/GloucesterCity/CplMarcTRyanMemorialMCLEF5kRunWalk Cpl Marc Ryan Run, ., Gloucster City, NJ
11/18/2017 – Take a Veteran to Lunch: 12:00 pm – 3:00 pm Tickets $20.00 per person (FREE FOR VETERANS) MUST BE PURCHASED IN ADVANCE Sponsor or bring a Veteran to thank them for their service and our freedom For more info: www.burlington32.org Or contact: Bob Shulman (856)-857-7344 Or Dan Guthrie (609)-922-4593 Burlington Masonic Lodge #32, 2308 Rt. 541 & I-295 (exit 47A), Burlington, NJ
UPDATED 10-21-17
**********************************************
BERGEN COUNTY, NEW JERSEY VETERANS CLOTHING CLOSET OPENING!!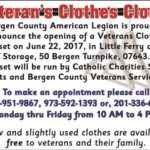 **********************************************
NEW JERSEY VETERANS –
**********************************************
NOW THROUGH 12-31-17
Veterans Telehealth Initiative – Providing Access to Care
March 6, 2017 Contact: Rick England / (609) 654-1498
We wanted to let you know about Virtua's new telehealth program that will benefit veterans living in our region.
The New Jersey Department of Health recently awarded Virtua along with Insight Telepsychiatry, Legacy Treatment Partners and Oaks Integrated Care, a grant to provide primary care and behavioral health care to veterans using telehealth.
Telehealth allows patient to connect with a medical provider using their smart phone or computer. All you need is a smartphone or computer with a webcam and Internet access.
This program is ready to begin today, Monday, March 6th. Appointments are free.
To be eligible to participate, a Veteran must provide their military ID number when calling to schedule an appointment and reside in Burlington, Camden or Gloucester counties.
The program will provide up to four visits conducted via telehealth technology and also work to leverage existing care coordination resources to help veterans gain access to social services and Tricare benefits if applicable.
LINK:
http://www.senatenj.com/index.php/email/email-district8/veterans-telehealth-initiative-providing-access-to-care/31658
**********************************************
NEW JERSEY VETERANS
FREE HEALTH CARE
For ANYONE who
has ever served in the military
Preventative Healthcare
Woman's Healthcare – Behavioral Health
Peer SUPPORT – Physical Exams
866-838-1654
Sponsored by the NJ Department of Health
FLYER:
POSTED 03-03-17
**********************************************
NEW JERSEY & NEW YORK
The Cohen Veterans Center at NYU Langone Medical Center is seeking Iraq and Afghanistan veterans for participation in a confidential research study. Participation can be done from home. Participation involves:
1) A phone interview from the privacy of your home.
2) Saliva sample done at home and mailed back to NYU.
3) An on-line survey.
Participating in this study takes approximately 4 to 5 hours in total, and compensation is up to $165 for the time and effort involved.
Some participants may be invited to travel to New York City. Deciding to travel is optional, and is not required to participate. Those who do make the trip to New York City will complete a blood draw and an MRI brain scan, with further compensation of up to $350, and hotel and transportation arrangements provided.
The goal of this study is to increase understanding of biological factors associated with mental health challenges and resilience, with the long term goal of helping future veterans and civilians with depression, posttraumatic stress and related conditions.
•No treatment or drugs are given.
•All personal information provided is 100% confidential and protected by federal HIPAA
Laws. Your privacy is ensured.
We request proof of military service, such as a military ID or DD214.
To participate, please call our Research Associate at: 877-698-3299.
To sign up online, please fill out our online submission form and someone will contact you shortly:
https://nyulangone.org/locations/cohen-veterans-center/participate-in-the-cohen-veterans-center-research-study
**********************************************
THE HEALTHCARE FOUNDATION OF NEW JERSEY LISTING OF SERVICES
20312F – pg. 1 – The Healthcare Foundation of NJ
20312F – pg. 2 – The Healthcare Foundation of NJ
**********************************************
Free Legal Seminars for Female Veterans
Volunteer Lawyers for Justice (VLJ) is a state-wide legal services organization aimed at improving the lives of economically-disadvantaged adults, children, and families in New Jersey by empowering them with tools, advice, and pro bono legal representation. VLJ is now also hosting free legal information seminars on issues affecting female veterans throughout the state. We are still adding dates and locations for our remaining seminars in 2016 and would welcome the opportunity to discuss scheduling one for your organization and clients. Please email donuschak@vljnj.org or call 973.645.1955.
VLJ has also received funding to conduct the state's first-ever legal needs assessment for female veterans in New Jersey. If you are a female veteran, please take a few minutes and complete our survey click here, https://www.snapsurveys.com/wh/s.asp?k=144787267859
POSTED 04-13-16
**********************************************
JUST ANNOUNCED! NEW JERSEY VETERANS
We have immediate openings for single veterans among our more than 100 transitional housing beds, ensuring safe and warm shelter to a homeless veteran who would otherwise be out in the cold. This program is open to all veterans, regardless of their current location.
We have openings at our transitional housing programs, located on the grounds of the VA Medical Center in Lyons, NJ and in Bergen County, NJ.
Download the Referral Form
Or
Call our Admissions Planner at 908 647-5717 ext. 320
posted 04-01-16
**********************************************
NEW FEMALE VETERANS PROGRAM IN NEW JERSEY!
POSTED 03-30-16
**********************************************
Housing Update 04-26-16
We have immediate openings for single veterans among our more than 100 transitional housing beds, ensuring safe and warm shelter to a homeless veteran who would otherwise be out in the cold. This program is open to all veterans, regardless of their current location.
We have openings at our transitional housing programs, located on the grounds of the VA Medical Center in Lyons, NJ and in Bergen County, NJ.
Call our Admissions Planner at 908 647-5717 ext. 320
**********************************************
CATHOLIC FAMILY & COMMUNITY SERVICES
Would like to announce the start of the
The Kosa Veteran Support Center, Inc
48 Wyker Road in Franklin, NJ
Hours of Operation:
Wednesdays and Friday 10am-2pm beginning February 2, 2016
· Services Currently Include:
· Case Management-every Wednesday from 10:00am-2:00pm a Case Manager specializing in Veterans housing issues will be onsite for consultation and referral.
Please call: 973-818-3648
· Counseling Services- a trained clinician will provide services to Veterans and their families. Counseling can be provided for individuals, couples and/or families, or in group settings.
Please call: 973-827-4702 x3101 to schedule an appointment.
· Presentations will be offered on various topics related to Veterans issues.
· A safe, welcoming place for Veterans to connect and help one another.
POSTED 02-11-16
**********************************************
VETERAN'S HOUSING!!
Habitat for Humanity Burlington County has 2 brand-new, 2-bedroom townhouses in Cinnaminson available specifically for veterans, active-duty, or reserve military members and their families.
IF YOU ARE NOT A VETERAN, ACTIVE-DUTY, OR RESERVE MILITARY MEMBER – DO NOT WASTE YOUR TIME AND THEIRS IN ASKING THEM FOR THIS…
The projected mortgage payment for these houses is between $400 and $1150/month, taxes and insurance included!*
Please see the attached brochure and pre-qualification list for more information. If you or someone you know is/was a military member and is interested in applying for one of these houses, feel free to fill out and submit the attached application.
*Mortgage payment is based on the income of the homebuyer(s).
Please contact me with any questions you may have.
Thank you!
Ashley F. Griffiths
Manager, Family & Volunteer Services
Habitat for Humanity Burlington County, NJ Affiliate
530 Route 38 East
Maple Shade, NJ 08052
Office: (856) 439-6717 ext. 103
POSTED 01-13-16
**********************************************
New Transportation Service For VETS needing help with transportation.
VETERANS TRANSPORTATION SERVICE
**********************************************
****************************************************
Rapid Re-Housing for Veterans and Families
in NJ and PA
We are providing rapid re-housing for veterans and their families who are homeless or facing imminent eviction. Support services and temporary financial assistance may also be available to qualified veterans. Our Supportive Services for Veterans Families Program is currently serving veterans in:
Bergen, Essex, Hudson, Hunterdon, Mercer, Middlesex, Monmouth, Morris, Passaic, Somerset, Sussex, Union, and Warren counties in New Jersey
Bucks, Lackawanna, Lehigh, Monroe, Northampton, Pike and Wyoming counties in Pennsylvania
LINK: http://www.communityhope-nj.org/supportive-services-for-veterans-families.php
****************************************************
The Military Skills Test Waiver program allows state licensing agencies, including the District of Columbia, the ability to waive the skills test portion of the CDL application for active duty or recently separated veterans who possess at least two years of safe driving experience operating a military truck or bus. Waiving this requirement often expedites the civilian CDL application process and reduces expenses for qualified individuals and operating costs to state licensing agencies. The Military Skills Test Waiver program has resulted in approximately 6,000 former military personnel obtaining a CDL. These include military men and women from the Reserves, National Guard and the U.S. Coast Guard. For more information and application forms, visit the Federal Motor Carrier Safety Administration (FMCSA) website at www.fmcsa.dot.gov/registration/commercial-drivers-license/military.
****************************************************
HEART OF A HERO SCHOLARSHIP
The Heart of a Hero Scholarship is a $5,000 (10) scholarship being awarded to New Jersey military service members to use towards their post-secondary or master's education. New Jersey Heroes will be able to award 10 worthy recipients this scholarship. New Jersey Heroes recognizes and celebrates the inspiring work being done by individuals and non-profit organizations across the Garden State to improve their communities and the lives of New Jersey residents. For complete information, including application,
http://newjerseyheroes.org/index/2015-heart-of-a-hero-scholarship-application-form/
****************************************************
NEW VETERANS CLOTHING CLOSET!!
201506291038
****************************************************
Find assistance as a vet, spouse, or dependent
One hundred and fifty years ago today, President Lincoln signed a law establishing the first federal veterans' facility for disabled Civil War veterans. This facility gave root to the Department of Veterans Affairs' assistance programs.
Today, the VA offers many benefits and services to eligible veterans and connects our military service men and women with resources across the country. Share this information with a veteran you know, or an organization that helps veterans.
LINK: http://explore.va.gov/
**********************************************
NYU is offering free psychiatric care to military veterans, regardless of discharge type or era served. In addition to many other types of care, we also perform family therapy.
Secondly, we are also conducting a massive study on PTSD and traumatic brain injury. The study pays up to $530, and we need OIF and OEF era veterans (they do not necessarily have to have been deployed, as we need non-deployed personnel for our control group). People interested in the study can call 877-698-3299. Feel free to forward these handouts around. If you need anything else, don't hesitate to ask. I've attached our website as well.
http://militaryfamilyclinic.med.nyu.edu/
https://nyulangone.org/locations/cohen-veterans-center/participate-in-the-cohen-veterans-center-research-study
Best regards,
Jared Sterk
Program Manager, Veteran Outreach
NYU Langone Medical Center
One Park Ave, 8th Floor, 8-129
The Steven and Alexandra Cohen Medical Center
646-754-4821
Veterans Research Study Postcard
Posted 04-23-15
********************************************
"Mane Stream Program"
Great New Therapeutic Program for Veterans!
*********************************************
ATTENTION HOMELESS VETERANS!!
Paterson Park Apartments, the first permanent supportive housing for homeless and/or disabled veterans has an available three bedroom unit. Attached to this unit is a project based State Rental Assistance Housing Voucher (SRAP). There is a full time case manager on site.
To qualify for this unit the applicant must meet the following:
1. Must be a veteran as per program requirements.
2. Must be homeless and/or disabled as per program requirements.
3. Must have income. Tenant would pay 30% of their income towards rent as per program requirements.
4. Must pass a criminal and credit background check per program requirements
Immediate availability. Certification for SRAP program could take as long as six weeks.
Thank you.
Michele Kadell
Senior Case Manager
Paterson Park Apartments
Permanent Supportive Housing for Homeless and/or Disabled Veterans
601 E. 18th Street
Paterson, New Jersey 07501
973-754-VETS (8387)
*********************************************
VETERAN'S HOUSING OPPORTUNITIES!!
Community Hope is currently accepting referrals of homeless veterans at our Hope for Veterans Program. Our 95 bed transitional housing program serves homeless veterans recovering from mental illness and/or substance abuse. Conveniently located on the grounds of the VA Medical Center in Lyons, NJ, Hope for Veterans offers homeless veterans a safe and supportive environment where they can start rebuilding their lives.
For eligibility guidelines, or to make a referral, please contact our
Admissions Planner at (908) 647-5717 ext. 325.
Posted 11-14-13
****************************************************
Hi Everyone – I hope you all are having a great summer.
In May 2013 I was asked to join the Bonds of Courage Career Counseling and Mentor Veterans program as Program Manager. Bonds of Courage supports Post 9/11 Troops, Veterans and their families. They offer a wide variety of FREE services – to help build morale and meet urgent needs involving jobs, health, families, and finances. We are very excited through a grant from the Elks Lodge # 1246, Summit, NJ that Bonds of Courage can expand their career counseling to add the opportunity to work with a mentor to help expand the Military member's opportunities and help support them to meet their goals. This program is flexible – can be completed in person, on the phone or email.
I am reaching out to you all of you in case you know a POST 9/11 military member that could benefit from this program. This program is FREE for Post 9/11 Veterans, Active Duty, Guard and Reserve. The military member did not have to have deployed to be eligible, we have also expanded the program for eligible military spouses.
It is a great opportunity for those:
· students building a career path
· looking for a job
· looking to change careers
· someone who may have hit a plateau and are looking for new opportunities
· entrepreneurs' looking to start or grow their business
· tradesman looking to get ahead in their fields
If you have a neighbor, colleague, or family member that might be interested please feel free to pass along my information.
Thank you.
Danielle Bracco
Program Manager
Bonds of Courage
Summit, NJ
www.bondsofcourage.org
908-273-4122 office
Posted 08-12-13
*****************************************
New Jersey – A NEW RESOURCE FOR VETERANS AND THEIR FAMILIES
Here is another NEW resource for veterans and their families:
I would appreciate it if you might help disseminate information about our program as a new resource for veterans who have recently become homeless:
Department of Military and Veteran's Affairs
Veteran's Haven North
100 bed Transitional Housing Program
Glen Gardner, NJ
908-537-1999
www.nj.gov/military/veteranshavennorth
Photos, driving directions, Application for Admission, and Resident Handbook are available thru the website.
Thank you!
Corinne Balaskas, LCSW
Social Work Supervisor
Veteran's Haven North
phone: 908-537-1999 x1966
fax: 908-537-1989
Corinne.Balaskas@njdmava.state.nj.us
POSTED 11-26-12
************************************************
New Jersey:
Following are our resources for homeless veterans and veteran families at risk of or who have recently become homeless:
VETS Emergency Housing for Homeless Veterans, Newark: http://www.communityhope-nj.org/veterans-programs.php
95-bed Hope for Veterans Transitional Housing Program at Lyons VA Campus: http://www.communityhope-nj.org/veterans-programs-hope-for-veterans.php
Supportive Services for Veteran Families (at risk of losing housing) http://www.communityhope-nj.org/supportive-services-for-veterans-families.php
Call numbers are listed for each program.
Posted 11-14-12
*********************************************************
NEW JERSEY VETERAN'S HOUSING ASSISTANCE!!
Interested Parties,
Middlesex County has the only Veterans Housing Assistance Program, which helps with security deposits, first month's rent, temp rental assistance, and situations where the client is in rental arrears. The amount and type will be determined by the veterans case manager.
POC: Doug Breen 732.745.4051 or doug.breen@co.middlesex.nj.us
Regards,
Rich Guard
Vets 4 Warriors
1.855.838.8255
Posted 09-07-12
New Jersey Emergency Veteran's Housing and More:

Posted 06-05-12
***********************************************
Hudson County New Jersey

Posted 04-30-12
**********************************************
New Jersey DAV Services:

Posted 04-27-12
FOR MERCER COUNTY, NEW JERSEY
The Veterans Intervention Program
Substance abuse counseling for veterans and their families
Services provided by Catholic Charities Behavioral Health Services with the support of the Mercer County
Office on Addictions Services.
VIP services are private and confidential. We have no connections with the Department of Defense nor the
Veterans Affairs.
Fees are on a sliding scale.
Inability to pay is not a barrier to receiving services.
Whenever possible, insurance plans will be accepted.
For an appointment, please call 1-800-360-7711 www.catholiccharitiestrenton.org
The wars in Afghanistan and Iraq are the longest combat operations since Vietnam. Returning home from a
war zone can present immense challenges. Signs related to the stressors from war and returning home can
include: using alcohol and other drugs, angry outbursts, anxiety, trouble concentrating, depression,
nightmares, and troubled relationships.
Our Alcoholism/Addictions service offers the Veterans Intervention Program (VIP) providing substance abuse
treatment to Mercer County Reservists and National Guard Members who have served in Operation Enduring
Freedom or Operation Noble Eagle. Services with trained counselors are provided in collaboration with the
Mercer County Office on Addiction Services and include:
• Individual, family, and group counseling
• When indicated for those in treatment with us, psychiatric evaluations and medication follow-up
• Referrals to programs supporting veterans and their families
********************************************
WE LEAVE NO STONE UNTURNED!!!